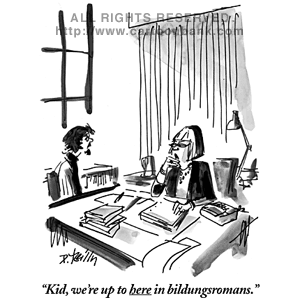 It's been a busy week, so I'm glad that Blog About Town and The Comics Reporter made mention earlier this week of the sad news that longtime New Yorker cartoonist Donald Reilly has died. The magazine's website has already put up "The Life of Reilly," an elegant five-minute slide show about his life and work, engagingly narrated by Reilly's former editor and fellow jazz horn player Lee Lorenz. It has some great images (photos, cartoons, and covers) along with anecdotes and detail about Reilly's technique, "tough-minded" sense of humor, and transitions in cartooning methods at the magazine. Looking through the slide show and the Cartoon Bank images, I'm struck by how consistently funny Reilly's drawings and captions are through the decades, and how even his slyest jokes seem to draw on a genuine sympathy for humanity that isn't, as we know, a given.

From the Times obituary:


Mr. Reilly, who began drawing for The New Yorker in 1964, did 1,107 cartoons and 16 covers for the magazine. His work also appeared in Playboy, Colliers, Look, The Saturday Evening Post, Mad, Harvard Business Review and elsewhere.

Mr. Reilly's artwork, typically line drawings with a touch of wash, was known for its directness, said Lee Lorenz, a former art editor of The New Yorker.

"Most artists sketch things out, make preliminary drawings," Mr. Lorenz said in a telephone interview yesterday. "Don liked his work to be as spontaneous as possible, and he was one of the few artists who would sit down and just do a drawing."

Together with their captions, which Mr. Reilly wrote himself, the drawings are anthropology in microcosm. Over the years, he wryly dissected the manners and customs of Homo sapiens, among them yuppie tastes ("I'm thirsty," one tot says to another. "What kind of water does your mother buy?"); mating rituals ("I think we're getting serious," a young man confides to his friend. "She's springing for a credit check and a surveillance on me"); and even euthanasia ("Yes, Oregon's lovely, but we're just here for the suicide").

One well-known drawing, from 1994, depicts a distraught cat on a psychiatrist's couch. The caption: "To this day, I can hear my mother's voice — harsh, accusing. 'Lost your mittens? You naughty kittens! Then you shall have no pie!' "

Mr. Reilly's most recent New Yorker cartoon was published on March 13 of this year. It shows one penguin addressing another, who is suavely attired in sunglasses. "Oh, get over yourself," the first penguin says. "We were all in the movie."
...
On at least one occasion, Mr. Reilly's work influenced public policy, albeit briefly. In 1984, the town council of Garrett Park, Md., voted to install a traffic sign at a troublesome intersection. The sign, taken straight from one of Mr. Reilly's New Yorker cartoons, read: "At Least Slow Down (formerly STOP)."

It was too good to last. "It's been gone some time," Ted Pratt, the town administrator of Garrett Park, said in an interview yesterday. "It got stolen so many times, they gave up."

Later:
Here is the
notice
placed in the
Times
by Reilly's family, which includes memorial contribution information.

Donald Reilly
REILLY-Donald, 72, husband of Kathleen Collins Reilly, died from cancer on June 18, 2006, in Norwalk, CT. A prolific cartoonist and cover artist for "The New Yorker" since the early 1960's, Donald was also a contributor to publications as diverse as "MAD" magazine and "The Harvard Business Review," among them "Look," "Colliers," "Playboy," and "The Saturday Review." As a teenager, Donald got his start at what would become a sideline for most of his life, playing jazz trumpet, trombone, and flugelhorn. Born November 11, 1933, in Scranton, PA, Donald grew up principally in Allentown, PA, and was the son of the late Helen and William F. Reilly. He graduated from Muhlenberg College in 1955 and from the Art School at Cooper Union in 1963. Donald's survivors, in addition to his wife, are his children, Patricia, Brian, and Michael, as well as Kathleen's children, Robert, John, and Maura Williams, and their spouses. Donald is also survived by his sister, Helene Fagan. His sister Jane Gallo predeceased him. Donald leaves eight grandchildren: Hanna, Liza, Michael, Henry, Maggie, John, Michael, and Daniel. Family and friends will meet on Saturday, June 24, at 4 PM at the Williams residence, 223 Chestnut Hill Road, Wilton, CT. For information: Harding Funeral Home in Westport, CT, Memorial contributions may be made to The New York Times Neediest Cases Fund, 4 Chase Metrotech Center, 7th Floor East, Lockbox 5193, Brooklyn, New York 11245.

Donald Reilly cartoons
[Cartoon Bank]