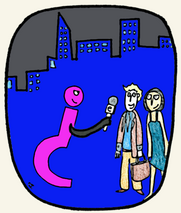 Update: The winners!
The ghost of James Murray, patron saint of the OED, hovers over us tremulously as we offer you our poll of finalists from Emdashes' very own Upside-Down Question Mark Contest. Meanwhile, Pablo Neruda, who refused to use this form of punctuation, throws up his hands in a corner of that celestial Scribbler's Green where all writers go—a place that all deceased literary critics are barred from entering. ¿Will this stop us? We say, respectfully but firmly: ¡no!
We offer you these names, hand-picked from an Emdashes orchard of more than 60 great entries, so thank you to all who submitted! The winner of this poll will win our grand prize, which, as you know, is either dinner for two at the Spanish, Mexican, Ecuadorian, Dominican, &c., restaurant of your choice, or, if you prefer, a beautiful copy of Neruda's immortal The Book of Questions.
1. the qué mark—submitted by Liesl (our own Martin Schneider submitted a variation on this entry, but since he's an editor and judge, he's disqualified from prizewinning; sorry, Martin!)
2. splainu—submitted by John
3. quiggle—submitted by Carolita
4. interroverti—submitted by Nadine & Chris LaRoche
5. ¿nu?—submitted by Paul Shaw
6. Prask and Pre-Q—both submitted by J.D.
7. Askin—submitted by N.F.
We also want to offer you some etymological background and information on some of these entries. Note that ¿nu? reads the same right side up or upside down. (Turn over your computer—see?) "Splainu" derives from I Love Lucy, specifically from Ricky Ricardo's "Lu-seee, you haf some splainu to do!" The venerable interroverti is derived from the Latin components "interrogo" and "verti/verto/versum," meaning "to turn over," "to turn about," &c.
And here are the final eight—may the best mark-marker win, and watch out for those hanging ¿chads?