In today's installment, Paul pays tribute to Mort Walker (whose "Beetle Bailey" was fleetingly mentioned in this 2003 Talk of the Town by Andy Borowitz). Click to enlarge!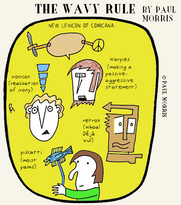 Paul adds: Back in 1980, Mort Walker, of "Beetle Bailey" fame, wrote a book called Comicana, a set of international symbols and names denoting the various visual devices frequently used by cartoonists. For example, the sweat droplets that fly out of a character's head Walker called "plewds," the clouds of dust emanating from a runner's feet are "briffits," and my all-time favorite: "grawlixes," that bubble of violent symbols indicating that a cartoon character is cussing up a storm. This Wavy Rule is in honor of Walker's creation. Also, check out this article on the Lexicon by Stacy Conradt.
More by Paul Morris: "The Wavy Rule" archive; "Arnjuice," a wistful, funny webcomic; a smorgasbord at Flickr; and beautifully off-kilter cartoon collections for sale (and free download) at Lulu.