Martin Schneider writes:
I do not own an iPhone, but it doesn't take a genius to surmise that this might make an awful lot of people happy: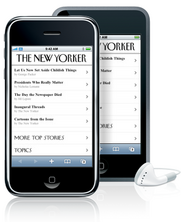 Here's the text:
About The New Yorker for iPhone
A weekly magazine with a signature mix of reporting on national and international politics and culture, humor and cartoons, fiction and poetry, and cultural reviews and criticism.

The New Yorker for iPhone features a selection of stories from each week's issue as well as original material from newyorker.com and one-touch access to our blogs and podcasts.
More to come. I'm sure Emily (who does own an iPhone) is raring to give it a test-drive.
Update: If you want to get a taste for how it will work, look at this.