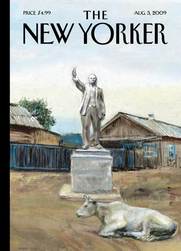 Pollux writes:
Alex Melamid's cover for the August 3, 2009 issue of The New Yorker is called, simply, "Siberia." Melamid's painting is not one of The New Yorker's humorous or political covers. The meaning of his landscape cover only becomes apparent when one reads the issue's Reporter at Large piece—and reads it in full.
Inside the covers of the August 3, 2009 issue is Part One of Ian Frazier's Siberian journey. In many ways, Frazier is plunging into the unknown. It truly is, as The New Yorker describes it, the "ultimate road trip." Starting in St. Petersburg, Frazier crosses the Urals to Tobolsk and beyond, in a lurching Renault step van with his guide Sergei Mikhailovich Lunev.
Melamid's cover thus introduces an element of mystery that refers to the mystery of Siberia itself. Despite the increasing smallness, or flatness, of the world, Siberia remains a land of mystery to Westerners, a terra incognita of taiga and tundra.
The very name "Siberia" conjures up images of remoteness, of nuclear tests, of gulag archipelagoes, of distant, cold cities with names like Omsk and Tomsk, and, as Frazier comments, of strategic places on the Risk gameboard. "The Kamchatka Peninsula controlled the only crossing of the game board's narrow sea between Asia and North America, so gaining Kamchatka was key."
Siberia is a vast region marked here and there with the relics of the past and the realities of the present. On the start of his journey, in Vologda, in Western Russia, Frazier comes across "the only life-size statue of Lenin in the world. It looks painful as if the powerful Bolshevik had simply stood on a pedestal and been bronzed alive."
In Melamid's cover, Lenin stands before a nondescript, tumbledown house. There are no worshiping crowds or bouquets at Lenin's feet, only an indifferent cow. "The main four-legged animal I encountered in Siberia was the cow," Frazier writes. "Siberian cows are skinnier than the ones in America, and longer-legged, often with muddy shins, and ribs showing."
Melamid's brushstrokes capture the riddle that Russia still represents. Should we feel threatened by this land of life-sized statues and skinny cows?
Melamid, born in Moscow in 1945, was a co-founder, with Vitaly Komar, of the Sots Art movement, a Russian parallel to Pop Art and a satirical rendering of Socialist realism. Instead of paintings of admiring schoolchildren giving roses to Stalin, Melamid and Komar inserted themselves, for example, and their families into the forms and images of the state-approved Socialist realism.
Sots Art adopted, as explained in this piece, "the aesthetic methods of state-approved art to express non-conformist sentiments", utilizing the vibrant Soviet symbols (the hammer and sickle, the military uniforms, the star, the color red) for purposes of pop art rather than propaganda. Practitioners of this form of deconstruction included not only Komar and Melamid, but also Erik Bulatov, Il'ya Kabakov, Dmitry Prigov, Aleksey Kosolapov, and Leonid Sokov.
Melamid and Komar were arrested in 1974 during an art performance. Soviet authorities destroyed some of their works, and the two artists were working in the United States by the late 1970s. The two artists stopped working together in 2003. Recently, Melamid's Holy Hip-Hop! solo exhibition attempted to capture the essence of hip-hop artists like Snoop Dogg, 50 Cent, Kanye West, and Reverend Run.
Melamid has been described as a revolutionary, a rebel, and a "cynical social realist." However, I find his cover for The New Yorker to be less satirical and irreverent and more nostalgic, almost sentimental.
Naturally, with the fall of the Soviet regime, creators of Sots Art no longer had a power structure and its accompanying symbols to lampoon and subvert. Melamid has thus turned to new power-brokers such as Snoop Dogg and away from those such as Leonid Brezhnev.
Nostalgia for the Soviet era emerged as soon as the Soviet era had ended. Lenin and Stalin were no longer objects of fear but representatives of a bygone era of superpower status. Today, affluent young Muscovites buy overcoats bearing hammer-and-sickle buttons, retro USSR Olympic tracksuits, and jewelry minted to look like Soviet kopecks.
In the same way, Melamid's cover has not been created, as Sots Art has been described, in "a unique version of Soviet Pop and Conceptual Art, which combines the principles of Dadaism and Socialist Realism" but instead is simply a literal imagining of Frazier's words on Siberia, tinged with nostalgia for the Soviet past.
Frazier's cows and Lenin statue are not described as being in the same town. Melamid has instead created a vision that combines Frazier's reporting into one single canvas.
Melamid's cover is thus not an attack on a repressive Soviet regime but an interpretation of the Russia of 2009: an intriguing combination of great strength and size and also a place of strong nostalgia, of ecological desolation, of empty steel barrels and scuttled ambitions.