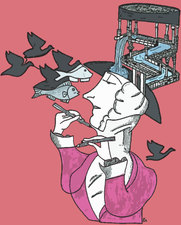 Pollux writes:
The 2010 Eustace Tilley Contest is here!
It will coincide with the 85th anniversary of The New Yorker (huzzah!). The image of Eustace Tilley is iconic, but is open to endless modification, metamorphosis, and transmutation in this fun contest.
Some FAQs:
When is the entry deadline? January 18, 2010.
And where can I see last year's winners? Here.
How many Eustaces can I upload? As many as you want!
What do the winners get? The chance to be featured in a slide show curated by the very excellent Françoise Mouly!
Is the contest fun? Absolutely. My "Escher Tilley" above, which was fun to draw.