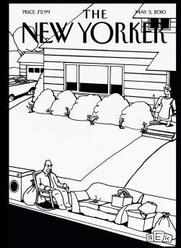 Pollux writes:
The work of Bruce Eric Kaplan, also known by the shorthand of BEK, graces both the inside and the outside of the May 3 issue of The New Yorker. That's quite a coup for an artist who used to live "in a space that was meant to hold just one car and maybe some old boxes or tools or whatever it is people put in (half of) a garage" and submitted cartoons to The New Yorker for three years before one was accepted.
Kaplan's cartoon (on page 60) is about people watching a thriller about bunny rabbits ("Don't go into that hole!"). His cover, called "Spring Cleaning," depicts the act of clearing out the clutter from a suburban house.
Part of the clutter on the curb consists of items like an old washer, sofa, and lamp, as well as another old relic: the cleaner's husband. The husband's attachment to his rocking chair, which has suffered the same fate, symbolizes the inertia and dotage that led to his being discarded in the first place.
The spring cleaner grins in triumph; she has rid herself of some dusty and useless items, perhaps to be replaced by newer models. The long winter is over.
In "Spring Cleaning," Kaplan retains the distinctive style of his cartoons: the boxy, pupil-less figures with the starfish stance, the heavy blacks and lack of grays and washes, and the off-kilter and dark humor.
Kaplan wrote one of my favorite Seinfeld episodes, "The Cartoon." This episode satirized the "typical New Yorker cartoon," in which a frustrated and confused Elaine accuses the New Yorker's cartoon editor of simply running doodles of "a couple of bears at a cocktail party talking about the stock market."
Kaplan's cartoons are of course not about bears at a cocktail party talking about the stock market, but are set in a slightly skewed reality in which reality and our darkest thoughts intersect. Kaplan's cover is set in a surreal suburban landscape, in which the old station wagon is parked in the driveway and the paterfamilias is parked on the curb.
The gag cover would work just as well as a 4 inch by 4 inch cartoon within the magazine's pages, but its presence on the cover gives us a refreshing, black-and-white slice of BEK's brain at the very beginning.