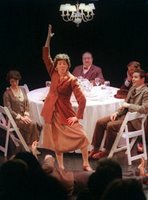 The New York Blade's Jonathon Warman reviews the show at the Algonquin:


While "Talk" includes generous helpings of the quips and barbs the group was known for, I was surprised to find that at heart it's really an exploration of the profound friendship between Parker (Kristin Maloney) and Benchley (Chris Weikel). Maloney is quite good at modulating between Parker's public brittleness and her private vulnerability—the magnetic poles that made her such a good writer.

Plus, it's a great pleasure to see Weikel—who has cut a figure on the gay theater scene as a very visible playwright and actor in the TOSOS II troupe—playing such a plum role (essentially the male lead) in such an "uptown" setting. He displays all the effervescence and comic timing I've know him for and also proves himself every bit Maloney's equal in delving into his character's more tender side.

I may review this myself at some point. You can buy tickets for the show
here
. The Algonquin still hasn't brought back its extremely good, and inexplicably absent, steak sandwich, but oh, those coconut martinis. Trust me, really.