Kabluey is a spanking new movie, starring Lisa Kudrow, Chris Parnell, Teri Garr, and a powerful man in blue, and written and directed by my funniest friend, Scott Prendergast. It's opening at New York's Cinema Village (22 E. 12th, between 5th and University) on the 4th of July, and it'll run at least a week. I predict longer. Then it opens in a bunch of other places all over the country.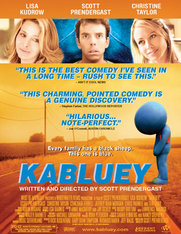 Don't you want to be the first to say you saw the movie of which Rex Reed wrote, "Kabluey" is as wacky and different as its title…A fresh, unique, touching and often hilarious film that is a real summer treat…all hail Scott Prendergast as a new director who is going places!"? That's at 100% on Rotten Tomatoes? Yes! You do! And if you go on Monday, the 7th, I'll be there too. Buy advance tickets here.
Then you'll know. And those people in the other parts of the country will cry because they couldn't be here to share it with you. You, on the other hand, will still be laughing.