Benjamin Chambers writes:
What with the Democratic Convention going on and all, it was highly serendipitous to find a two-page spread of great cartoons entitled "Political Conventions" by James Stevenson in the August 25, 1968 issue of The New Yorker. I couldn't find them among Stevenson's work at the Cartoon Bank, so I've uploaded a couple of my favorites below. (For the complete set, I'm afraid you'll have to reach for the Complete New Yorker.) Stevenson has always been one of my favorite cartoonists; click here for a very thorough profile of his artistic career.
While chuckling at Stevenson's quietly satirical sketches, though, I'll admit I experienced a bit of cognitive dissonance, since after all, they were published during the infamous 1968 Democratic National Convention.
Here's the first (click to make it bigger):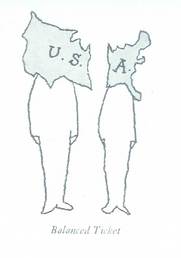 And here's the second one (click on it for a larger version):