An important message from "The Wavy Rule": Don't forget to enter the Emdashes contest to name the upside-down question mark! We're accepting submissions through this Monday, August 25. ¿Can you best the entries that have already been posted? There's only one way to find out! Back to our regularly scheduled program; Paul writes of today's aerodynamic cartoon:
Mr. O'Malley was the product of Crockett "Harold and the Purple Crayon" Johnson's imagination, and a character in Johnson's "Barnaby." Mr. O'Malley, a fairy godfather, was a member in good standing of the Elves, Leprechauns, Gnomes, and Little Men's Chowder & Marching Society, ran for Congress, worked as a Wall Street tycoon, and smoked Havana cigars. A great resource on Barnaby and Crockett Johnson can be found at Philip Nel's site. Click to enlarge!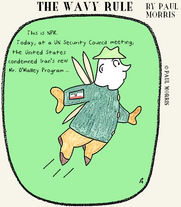 More by Paul Morris: "The Wavy Rule" archive; "Arnjuice," a wistful, funny webcomic; a smorgasbord at Flickr; and beautifully off-kilter cartoon collections for sale (and free download) at Lulu.