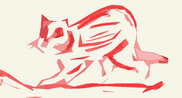 Pollux writes:
A few weeks ago, we announced the Art for Cats auction in which you can bid on original New Yorker art pieces and help save cats from certain death.
The Art for Cats auction has over 60 pieces by New Yorker artists, cartoonists, and illustrators that will go live tonight on eBay at 11:00 EST. Participate in this great cause and start bidding, ladies and gentlemen, before it's too late!
The Facebook group can be found here!