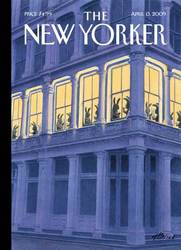 Pollux writes:
"You people should be ashamed of yourself," Elaine complains to The New Yorker's cartoon editor in one Seinfeld episode. "You know ya doodle a couple of bears at a cocktail party talking about the stock market ya think you're doing comedy."
At first glance, Harry Bliss's cover for the April 13, 2009 issue of The New Yorker seems to be exactly what Ms. Benes was complaining about: a couple of cute animals talking about the stock market at a cocktail party. In this case, we see rabbits, not bears, but what is perceived as the spirit of the stereotypical New Yorker cartoon and New Yorker cover is there.
But Bliss's cover is serious in intent, not comedic, and it visualizes a world in which we're outside looking up at a convention of earnest Easter Rabbits, or perhaps ordinary gray rabbits (if rabbits who attend cocktail parties are ordinary), taking place in a late hour of the night. We're shut out from the conversation, and from the warm yellows of a social club as we stand in a cold, violet-tinted avenue.
From street level, we can only imagine the low murmur of the rabbits and the clink of glasses bearing classy drops of Romanée-Conti. What are they discussing? Hindgut fermentation? The bail-out of Fannie Mae and the Flopsy Bunnies? The crisis in Mr. McGregor's rubbish heap? The endless, expensive war with the badgers?
Bliss's covers are beautiful, ranging from an illustration of King Kong drenching grateful New Yorkers with a Super Soaker to two museum-goers gazing at a digital camera's rendering of a photograph of a painting while the original painting lies before them. Bliss is a master draftsman and his drawings are beautiful in the details.
The building in this cover is elegant and stately, the kind of place that you're likely to feel nervous about entering if you have any number of social anxieties. You feel as if there may be a tough bouncer at the door—perhaps a hare from one of the tougher burrows, or a coney from below Coney Island's Riegelmann Boardwalk.

Bliss's cover evokes the feeling of separation and isolation encapsulated in an Edward Hopper painting. Most of the cover, which is called "Spring Vision", is enshrouded in darkness, emphasizing the coldness of a vantage point of a stranger looking into this springtime vision. It's not only the distance but also the height that separates us from the warm light of a very exclusive leporid party. It may be springtime for these little rabbits, but it's not spring yet for the rest of us.
Hopper's paintings are less about loneliness than about the differences that keep people apart. Annie Proulx and Hopper himself felt that the lonely aspect of Hopper's paintings was exaggerated. "The loneliness thing is overdone," Hopper once remarked. His paintings, as Proulx writes, "were studies in mass and light expressed through the idiom of American landscape, architecture and figures."
In the same way, Bliss's cover is a study in mass and light. The sheer mass of the building dominates the cover. Bliss's rabbits are an anonymous, almost featureless, mass of tipplers.
Bliss is an old hand at drawing rabbits for New Yorker covers, which appear in the form of skeletons of prehistoric megafauna or as fedora-wearing commuters. They also appear between the covers, in the form of loving rabbit families: a father hands his son a gift at a train station. The son is leaving for college. "Your mother wanted you to have this for good luck," the father says. "It's her foot."
Bliss's rabbits appear in various manifestations and display different attitudes. In "Spring Vision" they represent an image of exclusivity. We can't reach them. Perhaps we don't want to.