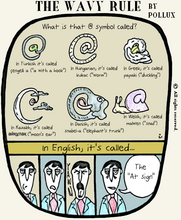 Back in 2008, we decided to come up with a name for the upside-down question mark. Our winning entry was interroverti.
Come on, loyal Emdashes readers! Come up with a better name for the "at sign"!
Click on the cartoon to enlarge it!
Read "The Wavy Rule" archive, and order your Wavy Rule 2008 Anthology today!