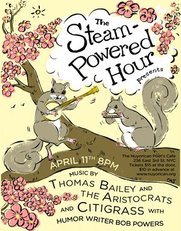 Emily Gordon writes:
The Steam-Powered Hour is one of the best variety shows going in New York. The combination of high-quality bluegrass, New Yorker cartoonists like Drew Dernavich, Carolita Johnson (who drew the merrily sciurine poster above) and Emily Flake drawing live on stage, comedy, storytelling, and spontaneous mass acoustic jams make it a hootenanny-salon you have to experience, trust me.
It's a monthly party, but it's taking a break for the summer, so make sure to come to the next two! Especially this one, because Citigrass are some of the rousingest, rollickingest pickers I've ever had the pleasure of hearing.
From the Steamers' latest email:
In April, The Steam Powered Hour welcomes back Citigrass, winners of this year's Battle of the Hardly Strictly Bluegrass Bands. Also, more bluegrass goodness with Thomas Bailey and the Aristocrats, a story by The New Yorker staff writer Mark Singer and cartoonist Zachary Kanin. Plus, plenty more surprises. Hosted as usual by New Yorker cartoonist Matt Diffee.
April 11th, 8pm
Nuyorican Poet's Cafe
236 East 3rd Street Between Ave B & C
New York City
Tickets are $15 at the door. Get 'em for $10 in advance at http://www.nuyorican.org.
You can follow The Steam Powered Hour on Twitter and on Facebook.