Squib Report bureau chief Martin Schneider continues his investigation into the worthy subject of pigeons in The New Yorker.
My new favorite New Yorker cover artist is Harry Bliss, and I have a feeling I'm not alone—Emily has already noted that his lovely, witty April 30 cover has drawn kudos from as far afield as New Zealand, since which time Jason Kottke has pointed out an interesting reaction to the cover, even leading to the discovery of a likely Norman Rockwell connection. Oh, that messy Jackson Pollock does attract satirists, does he not? (If I hadn't temporarily misplaced my Complete New Yorker Disk 5, I could direct readers to Dana Fradon's November 5, 1960, cartoon referencing Pollock in the full knowledge of its contents.)
That Bliss is poking fun at the YouTube generation does not seem in doubt. The interesting question is whether the young lady depicted partakes in the same technophilia as her companion or is, instead, nonplussed. The relevant data here seems to be the distance between the two, along with the subtle curvature of her shoulder away from him. Dissenters might point out that the gap is simply necessary for the reader to see the digicam.
Has Bliss weighed in? Or is he letting the picture speak for itself (without the help of digicams)? And while I'm asking questions, does anyone know the name of the Pollock painting in the image? Is it at MoMA?
All this is preamble to a Bliss-related pigeon item. Turns out my concern about the lack of pigeons in recent New Yorker covers was utterly unfounded, as this typically fanciful Bliss cover of June 3, 2002, demonstrates. It's just as witty as the Pollock/digicam one.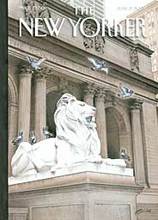 As many New Yorkers and tourists are aware, the famous lions are known as Patience and Fortitude—they were once known as Lady Astor and Lord Lenox!—with Patience occupying the left-hand slot. So that makes it Patience depicted in the cover. Waiting more than ninety years to munch on some primo Columba livia (Latin for "lives near Columbia University," as you know)—now that is patience, to be sure.
—Martin Schneider