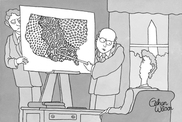 "And in this section it appears that you have not only alienated voters but actually infected them, too."
Relaxed after a well-earned vacation and back in Park City, Utah, initialed editor and
contest champ
T. C. Doyle considers Chast, DeLay, hubris, Hemingway, canoes, the "crustacean-like, single-cell-looking objects" and curiously young leader in Gahan Wilson's drawing, and
Doyle's non-doppelganger
, T. C. Boyle, who has also been published in
The New Yorker
. In the very same issue, actually. Boyle once gave his readers a challenge to write concisely about the year 1970; Doyle dispenses with it in a handy haiku.
First things first: What do your friends and colleagues call you? Is there a nefarious T. Doyle you'd prefer not to be confused with?
It's T. C. and always has been since day one. Conflicting stories as to why. One is that the TV cartoon show of the day,
Top Cat
, had a namesake character who was T. C. to his fellow alley cats. Supposedly that appealed to my father, but I wonder. He studied the classics at Princeton in the '50s and there is nothing cartoonish about him save for occasional phone call from two thousand miles away asking me where "the big screwdriver is." He does that because he recalls that I was "the last person who used it." At the time, Reagan was probably running for re-election.
Are there a whole slew of parks in Park City?
Park City does indeed have parks. Officially we are known as the home of the U.S. Ski Team. We hosted several Olympic events in 2002 and have three major ski resorts out our back door. Parks? We got 'em. Including the one behind my house where you can ski jump, luge and bobsled all in the same day.
Is everyone there excited about your caption win?
One woman rang the other night and suggested a connection. Something about common interests and close proximity. Her voice was breathtakingly sexy. Friends have rang and been gracious and generous with praise.
When did you begin reading The New Yorker?
My parents always had a subscription, so I read cartoons as a kid. Later I would pick up the magazine at the airport when I traveled on business. A decade or so ago, my father-in-law gave me a subscription for birthday gift. He's retired and reads every issue cover to cover. He shares his love of fine things generously. That's why I will give to him whatever the magazine shares with me.
Who are your favorite New Yorker cartoonists?
I have several favorites, one from another era. That's Thurber.
"The Catbird Seat"
is one of my all-time favorite short stories. It's urban. It's absurd. And it makes perfect sense to me, a kid from Indiana who once asked Santa for a filing cabinet. I did. When I was a kid, my parents had a cabin in Michigan, in Grayling on the Ausable River. Think pine trees as tall as goalposts, mosquitoes as hungry as stray cats. Supposedly a great place to catch rainbow trout. (I caught only poison ivy.) Inside was a ping-pong table and a record player accompanied by a Trini Lopez album and a Kingston Trio record. And there was Thurber. A whole book of him. I read it over and over while waiting for vacations there to come to an end.
Early in my career, I was introduced to Roz Chast by a co-worker. Actually she introduced me to the work of Chast's husband, Bill Franzen. She gave me a gift that I have to this day: his book of short stories entitled
Hearing From Wayne
. Like Thurber's, his stories are absurd, though more accessible. In one, a guy figures out how to make a buck creating phony "souvenirs" supposedly created by God himself in the aftermath of a tornado. It's hilarious. When I learned that he was married to Chast, I started looking for her work in
The New Yorker.
I later bought a copy of one of her books from the 1980s,
Mondo Boxo
.
Finally, I have become a huge fan of
Bruce Eric Kaplan's
work. Small, brutish figures lost in city life? Each with aggressive or callous or senseless points of view? I love that. I recall one often. It is of a man striding purposefully down the street. I think he wears a trench coat or suit jacket and clutches a briefcase in one hand. Outwardly, he appears in command of his world. But the balloon above his head belies his self-assured, confident ways: "Now what is it again I am always thinking?" I hope I got it right. The point is simply this: no matter the exterior, people are often lost, woeful or trapped in circumstances beyond their control, often without their knowledge. It's just hubris, pocket change and non-striking transit workers that keeps them going.
Did you submit captions to any other contests before this one?
I did.
Contest No. 29
, the one I won, was my third or fourth attempt.
What's your favorite non-winning caption so far, either by you or someone else?
My wife, Naomi, had one for Tom Cheney's
recent drawing
that I laughed at. His drawing was of the monster truck that somehow found its way on stage and interrupted an orchestral performance. In that one, the lead violinist is addressing the audience. Her quip: "Please excuse me, I am going to have to cut this short. Apparently my date from eharmony.com has arrived."
On to the strange coincidence of T. C. Doyle and T. C. Boyle appearing in the same issue of The New Yorker. Are you a fan of his writing? Any particular story or novel?
I have not read his work.
Boyle studied 19th-century British literature. Do you have a favorite 19th-century British novel? Or another highly recommended book for 2006?
How about Robert Louis Stevenson's
Treasure Island
? One Michigan-free summer I ran afoul of my aforementioned father. Some sin of a broken window or a promise, no doubt—I cannot remember. But I do recall the punishment. He made me write a book report on
Treasure Island
. I typed it myself on the very manual Royal typewriter he used at Princeton. A few years later, I carried it to the University of Illinois where I banged out a few never-to-be-published short stories. That's how I taught myself to type. Funny thing, though I write professionally, I still use only three fingers when banging away. And though I have been a journalist for two decades, I still look at the keys.
The same author once challenged readers to write "a story, a memory, a recollection, a re-imagination: 1970 in two-hundred [sic] words or less." How would you sum up that year in a sentence? Or a haiku?
1970? Hmm... How about this:
Avoid Michigan.
Way too much poison ivy.
Must you? Take Thurber.
Boyle drew a comic called "I Dated Jane Austen." Which author (living or not) would you most like to take a canoe trip with?
God, back to Michigan. Wait. Thinking
Big Two-Hearted River
. Nick Adams. A gun, I suppose. Surely there was a canoe. Someone in Michigan always has a canoe or at least access to one. So I would pick Hemingway? That's the author to take on a canoe trip. Wouldn't matter how well you paddled or how many fish you caught. Rivers there run fast and the currents are strong. After a few bottles of Spanish cava red, which we'd drink while slapping some rods and reels at the water, navigation would be left to chance. Even I'd go back to Michigan for that trip.
Your caption is a deliciously witty commentary on both pollsters and politicos that brings to mind many real-life elected officials. Boyle's much-anthologized short story "Greasy Lake" begins, "There was a time when courtesy and winning ways went out of style..." Would you say that's the case in Washington at the moment?
I'm sorry, I was just reading some fine things Tom DeLay had to say about bipartisan cooperation.
Speaking of which, the politician in Wilson's caption seems awfully young. How do you think he got elected?
He is awfully young. And vulnerable. And that I believe is key to the cartoon. I honestly didn't see the obvious caricature of the Cheney-like figure delivering the bad news to the shell-shocked President. In retrospect, it clearly is there. But the character is a bit too young and a bit too shocked for our current leader. No, I went with a young, perhaps ambitious, but certainly naive congressman hearing the worst, the absolute worst. So I asked myself, what is the most awful thing you could do to constituents, the thing for which even you, a man of ambition and unshakable belief and self-love would know in an instant would be too much to overcome? Lie to them? Nah. Cheat? Swindle? Nope, gotta be worse. My answer was there in the drawing, in the crustacean-like, single-cell-looking objects that conjured microscopes and test tubes and Petri dishes. And then it hit me: infect them. That would be bad. Way bad. You cannot do worse to voters than infect them. No apology could save you, no rationale could explain your way out of a mess like that. And the spinmeister behind the board in the left hand corner of the cartoon knows it. His certainty of pending doom was the inspiration for my quip.
How his client got elected in the first place, God only knows.
Do you think Alaska and Hawaii were covered in paisley or dots?
See, I didn't see tie patterns at all. But I only buy a few a year and when I can, I go to Hermès. They do nice ties there. Not many in paisley or on sale.
Boyle writes on his website, "I seek winter this time of year.... I trudged through the woods, accompanied by my canine friend, kept the fire stoked, read, wrote, relaxed." How about you? Do you prefer to seek winter or banish it?
I live at 7,000 feet next to a ski resort in the shadows an Olympic luge track covered in ice. As I write, part of my lawn is covered in four feet of snow. I won't see grass until May. I, too, seek the woods this time of year. Only we call them "trees" and you sail through them on titanium boards strapped to your feet. Not exactly trudging. But hey, I'm sure his dog is nice.
I figure winter is best celebrated, not lamented. Better still when forgotten.
Do you think the Washington Monument is one of the more attractive buildings in our nation's capital?
Is it a building? Really? Can you call a monument a building? I guess so. Buildings have Starbucks in lobbies now. Or tenants of some sort. It's a nice obelisk. And not cluttered with paisleys or inexplicable symbols.
If you had to wear a tie in the pattern of the East and West coasts in Wilson's drawing, or the paisley middle, which would you choose?
The costal risottos for sure.
☆Legal/philosophical note:
James Thurber's "The Catbird Seat" is actually available online, in a crude sort of format. Is it better for Thurber's estate, and, more to the point, his literary legacy and future fan base, to link to the e-book purchase page above, or to the story itself? What do you think? —Ed.
Also, this is the brilliant Gahan Wilson's second
caption contest drawing
. Is he enjoying this? Perhaps we'll hear from him.
***
Other Emdashes caption-contest interviews: