What's going on here? First cue up the Ricky Gervais podcast, from the beginning, you can. Then read this quick summary of what was to become Pilkingtonmania, from Reuters:


It was during a discussion on the Gervais show about a reality TV show, where contestants were asked to eat an animal's penis, that Pilkington made Internet history. First he said he could not eat an animal's penis in the morning because he has a delicate stomach.

He then proclaimed, "I could eat a knob at night."... After Gervais mused on the show that the soundbite could be used in a dance remix, it took just a few days for the Internet to be awash with songs using the soundbite as a hook.
The latest (at press time) big article, in the
NY Times
yet, is
here
. Earlier, there was a
Reuters piece
about the phenomenon of Karl, the podcast, the knob, and the mashups. Or remixes, as the case may be! I now understand the difference (thanks Nathan). They're also talking Karl in
Australia
(an expanded version of the Reuters piece),
Chile
, and
Sweden
. Translators welcome.
The new series:
My first review of the
non-free
podcast was
here
, and there have been several more since.
Without further ado--Karl Pilkington dance remixes, the original list. Apologies for any broken links, and updates welcome!

Update:
Since this is getting search-engine lovin' (hello, U.K.!), if you've got links to other versions--Ricky said he got at least 70--let me know and I'll post them here.
NEW: a great rock 'n' roll tribute to Karl's timeless utterance. The newest remix is actually a re-remix by Nathan, who also just revamped his already inspired enhancement of David Brent's earnestly soulful "Free Love Freeway." Download it here and you'll see what I mean. On his MySpace page, he adds modestly, "If you really really like FREE LOVE FREEWAY, theres a totally self indulgent overlong extended mix lasting nearly 9 minutes, here." I've listened--entirely worth it!
Update again: I'll need to do some more googlistening, I see, since your desire for Pilkington Man is downright insatiable. Meanwhile, why not read Nancy Franklin on Ricky Gervais? Franklin interviewed Gervais at the New Yorker Festival last year, and it was a delightful event, in part since Franklin is one of the funniest critics around.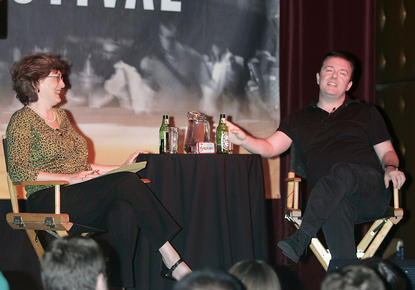 Also, via diligent commenter James on the Sydney Morning Herald blog, the trio's old XFM show. James notes, "It is hilarious (though annoying because you have to download each 5 min file, about 12 per episode - but well worth it)."
Brand-new mashups/remixes added as people send 'em in to me--see below for the list.
LATEST (June '06): Our favorite Birmingham-dwelling, Office-remixing DJ, Nathan Jay, writes: "I've got some new songs--one of 'em ["A Good Day"] might be interesting to you if you watch The Office (US version). I really love the show--as much as, if not more than, the UK version. I made a kind of 'chilled' house track, and spruced it up with loads of snippets from Pam the receptionist." As always, it's excellent and super-danceable.
Karl Pilkington news: There's probably not much point in my keeping up with this anymore, since the entire bloggomedia (the gap is quickly closing) is now doing it for me. But in case you're stopping here first, this is a very funny Karl, Ricky, and Steve animation and a trippy monkey news video, and there's a forthcoming book by Karl, or something like that. In recent news, there've been Karl clocks, badges, shirts on eBay; the end of this post lists other sources for Pilkington paraphernalia.
Are there any British podcasts as funny as Ricky's? Incredibly, yes! Comedy 365's ridiculously addictive Big Squeeze with sexy Georgina Sowerby and Brian Luff, the brilliant Chris Skinner's Simulacrum, and Killer Comedy (or anything else) with the King of Dry, John Dredge. See below for mouth-watering details. And they're all free!
The only way to survive the long minutes until the next episode is to download as many Big Squeeze (starring Georgina Sowerby and Brian Luff, pictured above) and Simulacrum podcasts--do not miss the interviews with John F. Kennedy, Kate Moss, and Moby-Dick--as you can. Also, John Dredge's Killer Comedy. See excerpt below for a snippet of Chris Skinner's revealing interview with the pissed-off whale.


First of all, can I get some things clear about Herman Melville, because that man is a complete son of a bitch. I employed that man as my official biographer. He was set aside to write the great story of my life, exploring the seas, and the things I saw while I was there. And he sold out completely, and turned it into a--horror film. I was this lethal man-killing machine.... I'm quite placid. If you wrong me, I'm bigger than you, I'll take you out, but not in a dinner way--more in a fighting mean-machine sort of way. I'm not going to do it now, because you've been generally quite pleasant.

But is he? Listen to the REST of this shocking Simulacrum show.


Have a shameful thing for naughty doctor-bunnies and saucy nursey-lambs? Who doesn't? Fluffy TV will oodle your noodle. I would say it'll tickle your fanny, but I know that has an entirely different meaning in the U.K., so that probably won't do.
Wear the knob: Flipporium's sexy "I Could Eat a Knob at Night" t-shirt (pictured below; "a percentage of Karl proceeds go to buying a goat!"). Link via Wax Elastic. Here are more knob shirts, including "I [Heart] Karl Pilkington." Need more Pilkington paraphernalia? Get it here. New: a brand-new, stylishly designed t-shirt, and the inevitable Karl quote book.