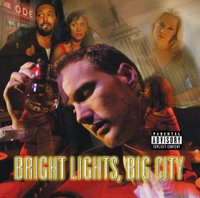 Love for the '80s rages on, and who can blame the younguns who never got to wear plastic triangle earrings the first time? Thus, the Bright Lights, Big City musical is getting another chance in the sun. From Bloomberg:


The infamous "Bolivian Marching Powder" of "Bright Lights, Big City" has marched its way to Philadelphia.

Twenty-two years after Random House published Jay McInerney's first novel, about a magazine fact-checker whose cocaine-fueled nightclubbing dulls the pain of his failed marriage and mother's death, a newly revised musical adaptation is playing at Philadelphia's Prince Music Theater.

The tuneful rock opera aims to be a story of loss and redemption, onstage and off. In 1999, critics clobbered its premiere at the nonprofit New York Theatre Workshop (where the premiere of "Rent" had resulted in a decidedly different outcome). They liked the music, were mixed about the lyrics and lampooned the production, in which its hopeful Scottish composer and lyricist, Paul Scott Goodman, appeared onstage playing guitar and narrating.

Nonetheless, New York's Sh-K-Boom Records, which specializes in preserving musicals and solo work by Broadway performers, recognized its strengths and produced a 2005 recording. It features the original lead, Patrick Wilson, as well as Christine Ebersole ("Grey Gardens") and Sherie Rene Scott ("Dirty Rotten Scoundrels").



Worth Preserving



"Everyone felt there was no reason this should be forgotten," said Sh-K-Boom President Kurt Deutsch, an actor and musician who is married to Scott and owns the rights to the show. "It has some of the best rock songs ever written for the theater."

Created with McInerney's blessing, the musical has less satire and more sentiment than the 182-page novel, which skewered young, striving New Yorkers enjoying the fruits of a nascent stock-market boom. In Philadelphia, Jeremy Kushnier, who resembles a young Jack Lemmon in blue jeans and a three-button brown jacket, plays the protagonist Jamie as a sympathetic roué.

He sings in the frenetic opening number, which like many of the songs quotes from the book: "I am not the kind of guy who should be in a place like this at this time of the morning, Sunday morning 6 a.m. I should have cut my losses about 3 a.m. but I said no, I need more blow to get me on my marching feet again."

Jamie careens from nightclub to party to his job at "Gotham" magazine, based on the "New Yorker." His mother appears as a ghost, singing up-tempo remembrances and ballads; his ex-wife, a model, sings a Burt Bacharach-inspired ode to the catwalk.

Cont'd.