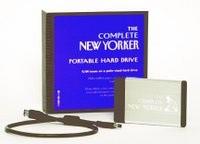 First the Complete New Yorker update disk and now this, which I wasn't expecting at all. From the press release because I am several feet underwater with the puffer fish and the corals, and our internet was down for half the day which has meant much cursing and gnashing of pencils:




"THE COMPLETE NEW YORKER" ARCHIVE TO BE MADE AVAILABLE ON PORTABLE HARD DRIVE





First Major Editorial Collection Published via a Portable Hard Drive



In one of the first digital publishing initiatives of its kind,

The New Yorker

will release its comprehensive "The Complete New Yorker" archive on a hand-sized portable hard drive, it was announced today by Pamela Maffei McCarthy, Deputy Editor.

The USB-powered drive, which will retail for $299, represents an evolution of "The Complete New Yorker," which incorporated the entire archive on eight DVD-ROMs and was released last year. Featuring the same program and design as the DVD collection, the hard drive contains every page of every issue of

The New Yorker

from February 1925 to April 2006—more than 4,000 issues and 500,000 pages.

The drive is designed to provide easy access to the archive virtually anywhere. It connects to a computer or notebook through a simple USB port, providing instant access to every article, review, poem, illustration, and cartoon, exactly as it originally appeared in the magazine. Users can easily search, browse, read, zoom in, and print any stories, covers, or cartoons they choose. They can bookmark them with notes, or share their reading lists with co-workers, family or friends.

"The Complete New Yorker" hard drive will be available September 18th. Pre-orders are available now at www.thenewyorkerstore.com.

I'm excited. I have a jarring birthday coming up, but since it falls not far from the 18th, I suspect that the trauma may be somewhat alleviated via Tilley microchips. Meanwhile, just in and very much
Complete New Yorker
-related, the first report from a talented new contributor to Emdashes. But you're going to have to wait for it, because exciting things are happening in the next month here. As the Addams cartoon says, "It's a baby!" In this case, the symbolic, brainchild kind. Patience, fortitude.
Related:
Additional posts
about the DVD archive.