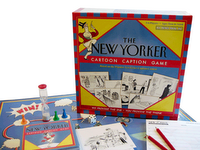 Crying all the time because your captions never make it in? This should dry your tears. If you can believe this, people once had to make do with homemade cartoon caption contest games, as the always sharp-eyed I Hate the New Yorker pointed out way back in December.
So what's the story with the game? From the Cartoon Bank:
Here's all it takes—a captionless

New Yorker

cartoon is shown and everyone gets to make up a punchline. The trick is to advance your game by guessing who wrote which caption or by having your caption chosen as the funniest. No drawing necessary! Part humor, part intuition, all fun. With an introduction by Bob Mankoff, Cartoon Editor of

The New Yorker

, original board design by Jack Ziegler, and produced by All Things Equal, Inc.

I think I'd play it. Speaking of entertainments, I'm sorry I haven't had a chance to write about this yet, but
The New Yorker Book of Cartoon Puzzles and Games
, released over the summer, is genuinely hours of fun—surprisingly so, for me at least, since puzzles usually bore me silly. It was extremely diverting for everyone in the cabin on a lake where I spent a week in July, and it would entertain a smart kid for an entire car trip, I swear. We could not stop doing them, and you wouldn't have to be a rabid
New Yorker
fan or or know any of the cartoonists' work, or even be a reader of the magazine, to dig it. It's been road-tested by my friends and relatives, including my clever young cousin George (whose game taste usually runs more toward pixelated Harry Potters), so pick it up!