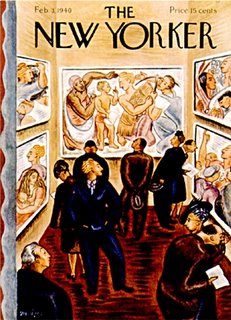 The very nice Karen Reeds, guest curator at the
American Swedish Historical Museum
in Philadelphia, writes:
Has the

New Yorker

taken note of the show of drawings and paintings by Virginia Snedeker at Morven (historic house/museum) in Princeton? It includes many of her

New Yorker

drawings, spots, and covers. Her younger brother, Dick Snedeker—who must be in his 70s at least—gives a very personal and smart tour of the show. Surely worth a Talk of the Town piece.

She adds:
The material on display comes from the family, which also has connections to one of the families that lived in Morven.

I forgot to mention a fascinating letter from a New Yorker editor on display from, I think, early 1944, outlining the global and domestic political/military situation and what it implied about the magazine's wants for covers and drawings in the coming year. The editor had no doubts about the Allied victory and was already thinking about readjustments of returning veterans.

It's about a 1/2 mile walk from the Princeton train station on campus ("the Dinky train") to Morven.

The listing in the
NY Times
has this further info:
"Capturing the Spirit: Virginia Snedeker and the American Scene," paintings and illustrations. Through Nov. 26. Admission: $4 to $5. Hours: Wednesdays through Fridays, 11 a.m. to 4 p.m.; Saturdays and Sundays, noon to 4 p.m. Morven Museum and Garden, 55 Stockton Street. (609) 924-8144.

Here's a
review
from the local paper
Town Topics
, which reprints a self-portrait by Virginia Snedeker. Snedeker's February 3, 1940,
New Yorker
cover (above) is in the Cartoon Bank, along with
several other covers
.