A couple of weeks ago I mentioned seeing a Viennese version of Saul Steinberg's incomparable cover "View of the World From Ninth Avenue." A reader named Jennie posted in the comments that she owns a shirt picturing the same sort of witty vista, only for Florence. She was good enough to send us a snapshot so that we could show it to you.
Here it is!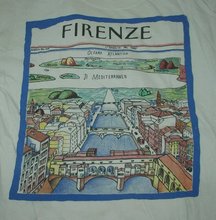 Jennie relates that the shirt "inspired me a few years later to make one of my own: A View of the World From Ancient Rome. The artwork can't compare, of course, even with the knockoffs, but it was fun." Alas, she doesn't have that shirt anymore. We still appreciate the contribution—thanks!
Needless to say, if any readers are aware of similar appropriations, we'd love to hear about it. There must be versions of this for Chicago, Los Angeles, London, Paris, and who knows where else!
The one I want to see is Dubuque.
—Martin Schneider
We've been neglecting the "X-Rea" category lately, I know, but if you've sent in a sighting of an Irvin-like face and haven't seen it on the site, rest assured, we'll be posting it with enthusiasm. For newcomers to this category, please be on the lookout for Irvinesque letters. They're everywhere! —EG