The President's Analyst, written and directed by Theodore J. Flicker and starring James Coburn in the title role, was released in 1967—which fact is screamingly evident in virtually every frame. I saw a big chunk of it many years ago, and in my mind it's always remained a mashup of Dick and I Love You, Alice B. Toklas! with a little bit of Skidoo thrown in. (We learned recently that David Denby is a big fan of Otto Preminger—I'd love to know what he makes of Skidoo.)
Let's be frank: The President's Analyst is kind of a mess. Its hallmark is the sort of hysterical puerility much better carried off some years later in The In-Laws. Watching the DVD (and enjoying the movie about as much as I had), Friend of Emdashes Jarrett noticed something odd: the people responsible for the DVD menu, rather than select some swirly go-go typeface, as seen in for instance the poster, went with a close approximation of Irvin. (In the poster, the title is set in the shape of an analyst's couch, which is one of those "good" ideas better off relegated to the dustbin. You can see this idea carried over in the words "Scene Selection.")
Jarrett kindly provided Emdashes with some screengrabs. Here they are: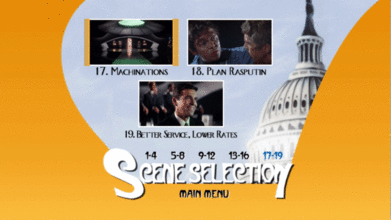 It's not quite a perfect match, I don't think, but it's very close. Nice to see my distant relative Dwayne F. Schneider there in that final chapter. Oh, here's that silly couch lettering:
And here's a random still from the movie with Coburn jamming on some kind of gong: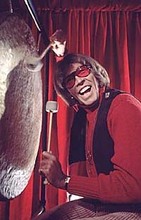 Incidentally: what did
The New Yorker
make of the movie, anyway? Brendan Gill reviewed it in the January 6, 1968, issue. He didn't like it either:
"The President's Analyst" … has a fine idea for a comedy, which it wantonly tosses away…. From the moment the analyst turns up in a fright wig at a folk-rock party, the movie loses control of itself and pitches headlong into greater and greater exaggeration.
Exactly.
—Martin Schneider