Paul explains today's inspired "Wavy Rule" (click to enlarge):
They've remade that jewel in the crown of our American heritage: American Gladiators, a show that fed the minds and muscles of countless kids from 1989 to 1996. I'm not sure what the point of that show was—maybe how to educate children on the proper use of skybikes and atlaspheres, or how to play Breakthrough & Conquer, a combination of football and freestyle wrestling. A veritable blast.
Here's my own remake of the show, with James Thurber-like characters. Instead of Turbo and Nitro, I say we pit Walter Mitty and Bodwell (a character in Thurber's story "The Night the Ghost Got In") against one another. Thurber humor and Super Powerballs—who can say no to that?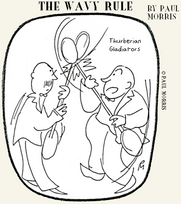 More by Paul Morris: Our very own upside-down question-mark naming contest! Plus, "The Wavy Rule" archive; a very funny webcomic, "Arnjuice"; a motley Flickr page; various beautifully off-kilter cartoon collections for sale and free download at Lulu.