1. I am so happy that Bob Dylan has two poems ("17" and "21," which is not about daring cousins Jack Kriendler and Charlie Berns and the secret of the smoked hams) in this week's magazine. I was picturing David Remnick reading the final TOC, looking at the three entries under "Poems" and beaming: Marilyn Hacker, Bob Dylan. Cool. Be mindful of names, indeed.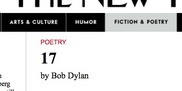 Man, I wish Dylan would talk about writing the poems, for half an hour, on "The New Yorker Out Loud." Anyway, Gary Nelson at Gary Nelson—Acoustic Roots led me to this story from the New York Times that explains how the poems came to be found: "Dylan's Poetic Pause in Hollywood on the Way to Folk Music Fame."
2. We usually see the same New Yorker news that Gawker does, but we don't have a staff, as such, so we don't always post it. And some things are better posted there, if they need be posted at all, which you can debate elsewhere. Anyway, from the Independent via Gawker, Annie Proulx is put off by "Brokeback Mountain" slash fiction. It can't all be bad, but the except Gawker posted is atrocious. I hope Proulx will consider lunch with J. K. Rowling (who has some experience in this realm) so they can guffaw about it together.
3. My friend Mark sent me this witty link today, from the Poetry Foundation: "Poetry by the Numbers: Eight shortcuts to writing timeless odes and getting $$$ for it!"
4. Have a really nice weekend. I love fall.