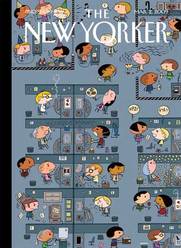 Pollux writes:
The color gray dominates Ivan Brunetti's bird's-eye-view of a typical American cube farm on the cover of The New Yorker for March 2, 2009. In this corporate necropolis of worthless PCs, dried-out water coolers, filthy coffee pots, and nauseating microwaveable meals, the wheels of American commerce fitfully turn like those on a rusty pump trolley. Even more defective than the machinery are the workers themselves: they weep, sleep, drink coffee, throw around office equipment, argue, and suffer termination, germophobia, and Post-it Note overload. They look for shoes and romance, both of the online and office varieties, and dance fitfully at a potluck. They get caught looking at pornography and lose precious time as the bespectacled Help Desk Guy dismantles their computer with a ruthless drill.
Brunetti's "Ecosystem" is a corporate world that at first glance seems to be a beehive of industry and activity, but we soon come to an awful conclusion about this American workplace: little work is actually being done. In the sickly gasps of a failing economy, we hear verses, through a defective intercom system, from Alighieri's Inferno: "Here heartsick sighs and groanings and shrill cries / Re-echoed through the air devoid of stars."
I wish this world were imaginary, for the U.S. economy's sake, but as a reluctant inhabitant of this type of purgatory myself, I find Brunetti's vision all too familiar. I have witnessed a Mardi Gras Potluck in which managers and supervisors walked around in feathered carnival masks while workers happily clipped their fingernails, checked Facebook for the umpteenth time, made multiple trips to the break room for bratwurst, Lay's Potato Chips, and stomach-churning lumps of cheese and steak, and looked forward to a night of office-sponsored glow-in-the-dark miniature golfing.
By a trick of perspective we look at Brunetti's egg-headed, stick-limbed figures not from above, but follow them on a downward trajectory as if in an etching by Piranesi. All are locked in their compartments, doomed to scamper endlessly on a hamster wheel they themselves have maintained. The artist's cartoon figures, normally subjected to the most wicked and outrageous torments (see, for example, his book HAW!: Horrible, Horrible Cartoons), now participate in the most perverse ordeal of all: the daily routine of office life.