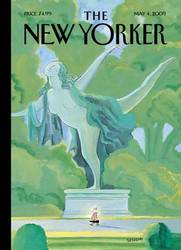 Pollux writes:
At last, with my column on covers, Sempé Fi, I have the opportunity to write about a cover by the eponymous Sempé.
It was inevitable: the work of Jean-Jacques Sempé is a staple of The New Yorker, appearing since 1978. Sempé is prolific, his work immediately recognizable, exhibiting a timelessness that some people find charming, others staid.
Sempé's New Yorker cover for May 4, 2009, called "Power and Grace," typifies what over his long career has become his specialty: large, detailed landscapes, in which minuscule figures maneuver, sometimes haplessly and at times triumphantly. Sempé's human figures are always diminutive but never inconsequential. His violinist is but a slip of a man dwarfed by an enormous plinth upon which an even larger piece of the landscape looms: a gigantesque and luscious hamadryad.
As The Independent pointed out in 2006, "most cartoonists like to zoom in on their idea: to focus on the joke for fear of losing it. Sempé loves detail and confusion. He often (not always) sets his characters in a large, jumbled world, whose mass of detail amplifies the punch line or leads you away in chaotically different directions."
What do we make, then, of Sempé's verdant image of an enormous statue and a man walking by it? Is she a joyful, voluptuous goddess of the summer season? Is she Terpsichore, muse of the dance, or Euterpe, muse of music, presiding over the advent of summer concerts in Central Park? Whatever deity she represents, she evokes power and grace. Her face is rhapsodic, her pose is free and perhaps physics-defying. She is liberated, sexual, and happy.
In contrast, Sempé's strolling violinist is a tiny bundle of sexual repression. Whereas garments on Sempé's sylvan goddess flow freely, with her emerald-green breasts and long legs exposed, the musician walking by her is stuffily dressed in suit, hat, and tie. He may be an artist, but he remains very bourgeois. He scarcely notices the 40-foot statue that looms above him.
Does a prurient thought cross his mind? It's unlikely. He may be thinking about the gas bill or the price of tea in Bordeaux. He is hardly a satyr; that seems to be the joke. As Charles McGrath writes, Sempé's figures are "Gallic Everymen, dignified and put upon at the same time, in the way that only French people can be."
This Everyman, then, may be powerful and graceful in his own way. His power and his grace may come from the instrument he is carrying. It is only the proportion of the imagery that makes him seem unimportant. Unlike one of Thurber's henpecked husbands, Sempé's violinist is not intimidated by Female Colossus With Arms Outstretched.
"I've always been astonished that we humans assume somehow that we are big," Sempé has remarked. "If you look at a person beside a tree or a building or a town, we are just tiny, little scraps of things. I never consciously set out to draw that way…" And these days, more than ever, we humans are little scraps compared to forces potentially more powerful than ourselves: global warming, dangerous strains of influenza, nuclear weapons. O Muse, O high genius, aid us now.