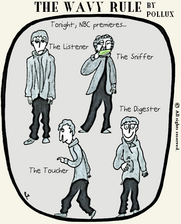 Click on the cartoon to enlarge it!
I don't why but NBC's new show The Listener strikes me as such a silly name for a show or hero.
It's been used before. When the comic series featuring the World II-era Blackhawk squadron got a revamp, they transformed Chuck Wilson, one of the team members, into a "superhero" called The Listener. It was a ridiculous name then, and it's a ridiculous name now.
Read "The Wavy Rule" archive, and order your Wavy Rule 2008 Anthology today!