Martin Schneider writes: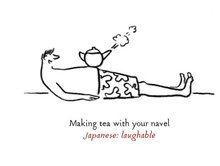 Emdashes is delighted to be giving away a copy of I'm Not Hanging Noodles On Your Ears, a book on idioms by Jag Bhalla, illustrated by New Yorker cartoonist Julia Suits (who drew the funny picture above).
We recently reviewed Bhalla's delightful book, which amuses and educates. The book is a great addition to lovers of both language and cartoons, and we guarantee that you'll love Hanging Noodles. We know that you crave this book, or as the Chinese say, have spittle that's three feet long for this book.
Here are the rules: There are two ways you can enter. One is to drop us an e-mail, with the subject line "My favorite idiom"; include your favorite idiom, your full name, and your mailing address in the body of the e-mail.
The other way is to retweet our message about this contest on Twitter; our username is @emdashes, if you're not already following us.
Please mention your favorite idiom in the tweet, too.
We'll accept all entries until 8:00 p.m., Eastern Standard Time, on Friday, September 30, and then the Random Number Generator will deliver its negative verdict to every entrant save one.
Good luck to all of you! As the Russians say, each vegetable has its own time ("every dog has its day").