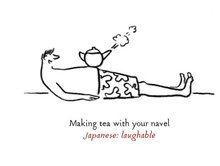 Martin Schneider writes:
If you happened to miss last week's announcement of our giveaway of Jag Bhalla's new book, you have extra time -we have extended the contest time to September 30!
Send us an e-mail, subject line "My favorite idiom," and include your name and full mailing address. We won't accept anything after 8:00 pm EST on Friday, September 30, so don't do the leek ("hang around waiting")… That's a French idiom.
Good luck!