Jonathan Taylor writes:
Those awaiting the results of the punctuation letter-writing contest should take a look in the meantime at some smooth quillwork by Sir Isaac Newton in a manuscript at the Chemical Heritage Foundation, a great example of the cursive "lb." transmogrifying into the pound sign (upper left):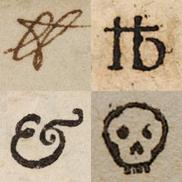 Hamlet might have written a nice letter to the caput mortuum, or dead head (lower right), an alchemical symbol for the useless residue of a chemical reaction. ChemHeritage says, "Some 16th- and 17th-century publishers had the symbol in their type cases," and, like the pound sign, it got a stylized rendering, as seen at Wikipedia and symbols.com [!]).