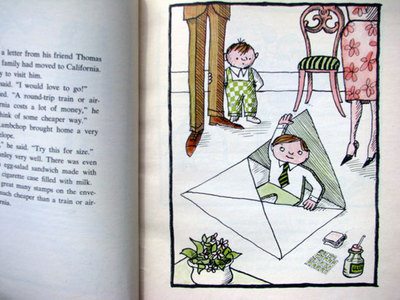 Emily Gordon writes:
I just discovered The Apple and the Egg, a handsome blog about design and illustration for children's books. The entry linked here is about one of the great heroic tales of our age (or, in my case, slightly before my age), Flat Stanley by Jeff Brown. Although I'm loath to denounce anyone these days, especially hardworking illustrators and anyone to do with children's books, I can't support the terrible decision to replace Tomi Ungerer's bold, winning, exuberant drawings. You'll have to turn to Powell's and eBay to buy the original, and it'll be yellowed and will possibly have been dropped in the bathtub once or twice. But it's worth it! For now, The Apple and the Egg will give you the quick fix you need.
Unrelated, and entirely three-dimensional (or even four, since it's about time): Colin Quinn's advice for comics on Broadway.