We've already
noted
the commendable choice of Alex Ross as one of this year's MacArthur Fellows;
Chimamanda Adichie
is also a winner, and I'm so glad. Here's the MacArthur website's description of a third accomplished and deserving recipient,
Regina Benjamin
:
Regina Benjamin is a rural family physician forging an inspiring model of compassionate and effective medical care in one of the most underserved regions of the United States. In 1990, she founded the Bayou La Batre Rural Health Clinic to serve the Gulf Coast fishing community of Bayou La Batre, Alabama, a village of approximately 2,500 residents devastated twice in the past decade by Hurricanes Georges, in 1998, and Katrina, in 2005. Despite scarce resources, Benjamin has painstakingly rebuilt her clinic after each disaster and set up networks to maintain contact with patients scattered across multiple evacuation sites. She has established a family practice that allows her to treat all incoming patients, many of whom are uninsured, and frequently travels by pickup truck to care for the most isolated and immobile in her region.

This immediately brought to mind "Children of the Bayou," Katherine Boo's outstanding 2006 piece about Louisiana nurses who travel to help young mothers learn to care for their babies. I find myself recommending it every few months. Boo has a satisfyingly long interview with Matt Dellinger on the New Yorker website; read it, and find the piece. It'll slay you.
Speaking of noble professions, I was moved to tears by a comment from a social worker about how Suzanne Vega's song "Luka" helped child advocates do their jobs by raising awareness about abuse and taking a little of the fear out of reporting it. The comment is on Vega's absolutely terrific essay for the New York Times about writing the song and listeners' many (and sometimes surprising) reactions. I was also struck by Vega's description of what having a hit song feels like: "'Hit' is a good name for it — a feeling of intense communication with a huge amount of people at the same time. As with a baseball and a bat, a cracking, quick connection. As with drugs, a sudden alteration of reality. You could get used to it."
I was led to all this by Clive Thompson's post about Vega's "Tom's Diner," a song close to many hearts, but particularly those graduates of Barnard and Columbia who have also listened to the cathedral bells and thought of a long-lost midnight voice, over sodden fries and (deliciously) gluey gravy. Vega writes stirringly about that song for the Times, too.
I love these shots of futuristic World's Fair bus shelters left over from the 1964 World's Fair, from my friend Paul Lukas, who discovered the far-out shelters northwest of Shea Stadium after last night's thrilling Mets game.
Very funny: Things that upset Ricky Gervais.
The website Baby New Yorker has some very cute stuff, and is also a natural choice for the New Yorker-minded. The Baby Talk onesie has a New Yorker cartoon feel to it, to be sure, and you've got to see the Dog New Yorker Shirt for yourself: "Our Comical Canine Version of the Original Eustace Tilley by Rea Irvin, Cover illustration for The New Yorker, 1925." A small image is below, but you'll want to click inside the Baby Talk website to see all the very funny detail. Yes, this is unsolicited endorsement; it's good for the soul.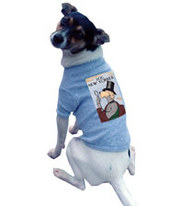 Meanwhile, Tom Perrotta writes in Slate:
Caribou hunting aside, Sarah Palin represents the state-of-the-art version of a particular type of woman—let's call her the Sexy Puritan—that's become a familiar and potent figure in the culture war in recent years.
…
I didn't think too much about Sexy Puritans as a type until I began looking into the abstinence-only sex-education movement while researching my novel, The Abstinence Teacher. I expected to encounter a lot of stern James Dobson-style scolds warning teenagers about the dangers of premarital sex—and there were a few of those—but what I found over and over again were thoughtful, attractive, downright sexy young women talking about their personal decision to remain pure until marriage. Erika Harold, Miss America of 2003 (the right sure loves beauty queens), is probably the best-known to the wider public, but no abstinence rally is complete without the testimony of a very pretty virgin in her early- to mid-20s. At a Silver Ring Thing event I attended in New Jersey in 2007, a slender young blond woman in tight jeans and a form-fitting T-shirt—she wouldn't have looked out of place at a frat kegger—bragged about all the college boys who'd tried and failed to talk her into their beds. She reveled in her ability to resist them, to stand alone until she'd found the perfect guy, the fiancé with whom she would soon share a lifetime full of amazing sex. While her explicit message was forceful and empowering—virginity is a form of strength and self-sufficiency—the implicit one was clear as well: Abstinence isn't just sour grapes for losers, a consolation prize for girls who can't get a date anyway.

Doesn't that make you think of those wonderful, ardent, chaste, and slightly self-contradictory Strawberry Queens from Plant City, Florida, the subjects of that terrific New Yorker story by Anne Hull a month or so ago? Here's a slide show from that piece; Brian Finke did the riveting portraits of the shortcakes and their long gowns.
Next week, know what it is? The New Yorker Festival, the high point of the Emdashes year, in all sincerity (we are, in fact, card-carrying members of The New Sincerity, and also, for crying out loud, The Corduroy Appreciation Club.) For the fourth straight year, we will be attending events, racing to the Starbucks/McDonald's/Bryant Park/office, and posting our impressions. We'll even be Twittering. Later, after videos are released of some of the events, we'll post links to those, too. Gee baby, ain't I good to you?