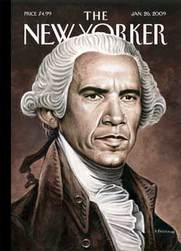 Pollux writes:
Obama looks good in a powdered wig. The head of Washingtonian hair sits easily and regally upon a head that bears a determined and presidential expression. One would think that the concept of dressing Obama in late eighteenth century clothing would produce an entirely jokey cover, but Drew Friedman's illustration for the January 26, 2009 issue, called "The First," strikes me as being grave, entirely conscious of some time in the distant future when the cover will be a valued relic of times past. I see it being used in history classrooms, accompanied by exercise questions ("How do you think the artist feels about Obama?" "Why do you think he chose to depict Obama this way?").
Friedman's color tones are earthy, dark, and subdued, evoking the anfractuous mixture of the weight of history and even greater weight of future expectations. The portrait is photorealistic, and sober, evoking also the enormous pressures faced by our first president. Both Washington and Obama are "Firsts," and Friedman's use of only browns and blacks and whites is a nod to the breaking of racial barriers, and to the intersecting of countless identities and Americas: the Venn diagram of these United States of America. Barry Blitt's Obama cover encapsulates what many Americans feared Obama would be and do; Friedman's captures what many hope Obama will be.
Friedman's depiction of a periwigged Obama isn't funny, and I'm glad that it isn't funny.