Due to popular demand, the New Yorker Cartoon Caption Contest interviews are back! Hardworking Canadian intern John Bucher interviews a brand-new member of a truly select group.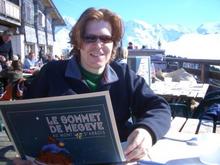 Richard Hine, on the bridge to somewhere

Congratulations to New York's own Richard Hine (above) for winning Cartoon Caption Contest #98—a P.C. Vey drawing of a man gazing into a wall through a telescope—with the line, "When you're finished here, Spencer, we'll need you on the bridge-to-nowhere project." I asked Richard to address some critical questions for Emdashes readers. —JB
What, for you, goes into writing a caption? I've tried the contest (always with miserable results), and I've come to feel it is, in many ways, a mental exercise—of identifying an idea related to the drawing, but not an immediately obvious one. Do you have a method?
The short answer is: Yes, but I would hate to give away trade secrets. The long answer is: First, I look at the cartoon online, before my magazine arrives. This, I feel, gives me a crucial head start on other captioneers. I stare at the screen, bite my bottom lip, and shake my head slowly. "Don't waste your time," I tell myself, "this one's impossible." When my magazine arrives, I look again, searching for details I missed the first time. "Maybe," I tell myself, "just maybe." Then, I start making a list of ideas for a few minutes. When I feel confident enough, I test them on my girlfriend. She usually tells me they are lame. So I immediately stop and try and do other things, like write a novel. I come back to my caption list once or twice during the next few days, just to see if I have any other brainwaves. There have been too many weeks when I've sent what I thought was my best caption too early in the week, only to come up with something far superior on a Thursday afternoon. I don't know what other people do, but I only ever enter one caption per week, so once I have a favorite, I try writing it a few different ways and only send it when I feel it's just right. This method, is of course, 100 percent guaranteed to fail 99 percent of the time.
Your caption has two features that are uncommon among the winners so far—length (fourteen words) and a reference to current events. Brevity, of course, is the soul of wit, and current events have a way of seeming try-hard. Why does this one work?
I was a finalist once before, in contest #82, with a fairly long caption. Of course, I lost out to a shorter, snappier, more crowd-pleasing line. But the experience of being a finalist emboldened me. These days, I allow myself to flex my long caption muscles more and more. Of course, I've nothing against short captions. I still send in a short one from time to time. In regard to current events, even though I've spent most of my career working for Time and The Wall Street Journal, I usually avoid referencing news items, as they seem not to work well in this contest. But in the case of this P.C. Vey cartoon, I went crazy and broke all my own rules! I not only abandoned my previously described method, I brought in current events, too. As soon as I looked at the cartoon I realized it had "time-wasting" written all over it—both in what it depicted and in its potential to suck up hours of my own time. Through sheer force of will, I made myself come up with a caption quickly and send it in immediately. I figured the "bridge-to-nowhere" concept summed up the reality of corporate thumb-twiddling pretty well, even if not everyone was familiar with the current-events angle.
I'm sensing an emerging time-wasting theme. What, for you, occasions a leap into the ephemera of non-work? What is your most enduring diversion, other than the caption contest? And what gets you back?
Each day, I wake up striving for the ideal balance between productivity and procrastination. I left the corporate world a few months ago, so my definition of "work" and "non-work" has shifted. I've finished my first novel and, while hunting for an agent, have started another. I write every day. I also do freelance and consulting projects. My girlfriend, Amanda Filipacchi, actually gets paid to write her novels, so we take advantage of the flexibility we have to travel when we can. On a daily basis, my standard forms of procrastination include: watching The Daily Show and The Colbert Report online, reading news and blogs on Huffington Post and rearranging my Netflix queue. And working out, of course. I plan on doing a lot of that soon.
What's been your favorite New Yorker cartoon in recent memory?
One of my favorites was actually another caption-contest winner. It was also a P.C. Vey cartoon: two men are looking through a door at an arm sticking up through quicksand and one says to the other: "Of course, the current tenant will be gone before the first of the month." I don't think I entered the contest that particular week, but I would not have stood a chance against that line!
If you were convalescing in hospital, what public figure, past or present, would you want in the bed beside yours?
Sir Laurence Olivier would probably have some great stories to tell and if he ran out of anecdotes, I'd just ask him to quote Shakespeare.
Picture the two of you in a cartoon frame. You're lying back, and your broken leg is suspended in traction. Sir Laurence, his mouth open, inclines himself to you. What's the caption?
"Should I have said 'good luck' instead?"
***
Other Emdashes caption-contest interviews: